"It's a simple concept. That we can be inspired by nature without taking from it."
As a vegan and a mother, this is a belief I feel passionately about.

My story started back in my birthplace of Hong Kong, where I grew up playing dress up dolls, watching my mom sew her own clothes and developing an enduring joy for fashion.

Fast forward to five years ago, I had moved into a lead creative role for an online fashion app, crafting styles and trend directions for production.

I loved the work but once I moved to Melbourne and turned vegan for the animals and planet, I was inspired to try out a new path. To attempt to create my own designs and build my own label from the ground up. One with purpose.
I'll be honest - the early days were challenging, full of setbacks and frustrations, but after a tough first year we got through them and Kinds of Grace was born.


My goal, together with my amazing collaborators is to show that handbags and goods can be luxurious and vibrant, full of color and life, without harming animals.
These vegan materials have a far smaller environmental footprint than animal skins, including our new collection with Piñatex, made from pineapple leaf fibres.
I'm proud to run a PETA certified label, to stand against sweatshop and child labour, and give back 20% of all profits to protect animals and the planet. Every purchase supports our mission.
Thank you for joining this movement for glamour that's kinder to all.
Yours truly,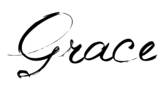 Founder & Chief Designer
Melbourne, Australia
We acknowledge the traditional custodians of this land and elders past, present and future.